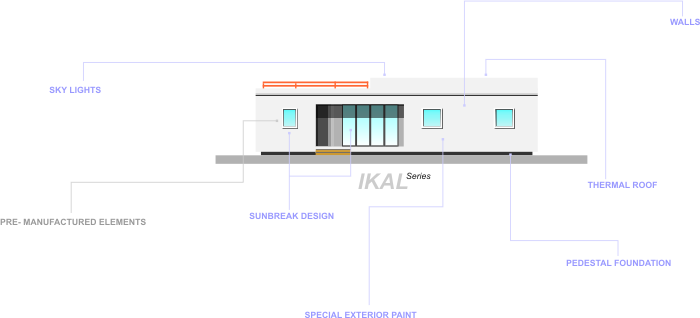 We pay great attention to the walls. All are of block and mortar construction, made with high quality blocks and precision built by specially trained teams. We maintain a consistent accuracy of +/- 3mm and our plaster work is immaculate. External walls are 250mm thick, internal walls 170 - 120 and 100 mm respectively with the same quality and accuracy.
For the special 'E' versions being introduced, we are the first builder to introduce cavity walls, comprising of a double wall shell lined with insulating materials. This creates exceptional thermal performance, keeping the building cool and minimising airconditioning loads and requirements.
Our roof design details incorporate provision for skylights. These provide illumination in the daytime to selected areas giving a light and airy feel while reducing lighting requirement and energy consumption
Fully 50 percent of the heat entering a building in Nigeria is through the roof. Our solution is a four layer composite concrete roof comprising a high density water proof concrete, insulation course, vapour membrane, waterproof course set at a front to back 3-5% precision slope. This ensures a long life roof with minimal maintenance requirements.
Yet another first for KURAMO, all our designs feature a pedestal foundation with entire building is lifted off the natural ground on a cantelivered base. This enhances the aesthetic, while providing generous, extensive and flexible opportunities for hidden service runs. Pipes, drains, cables, wires, ducts, are all hidden but easily accessible for installation, maintenance and repairs.
With an 'over engineered' structural design the foundation is suitable for most poor soil conditions without modification. The elevated canterlivered form with a downstand creates enhanced privacy for occupants while also enabling wash / under lighting to create a stunning nightime lighting effect. Hidden cameras, security sensors and sirens can also be easily installed beneath, further enhancing the practical advantages of this design detail.
Sunbreak design is incorporated into all aspects of the design to reduce considerably heat loads. Deep window hoods, recessed glazing, double glazed windows ('E' versions), etc all contribute of effective thermal performance.
Finished in white, we use a special paint which keeps its looks for years, easy to clean and protects the exterior walls from moisture ingress. The white colour contributes to the contemporary look while enhancing the thermal performance.
Extensive use of pre-manufactured elements such as window hoods / surrounds, lintels, joists, engineered timber beams and posts, trusses, stairs, floors, doors, windows etc.
All manufactured by KURAMO at the KURAMO Project Works in Amuwo, Lagos, these speed up considerably the construction process and ensure unprecedented quality.
KURAMO Homes are highly engineered products built using the time-honoured tradition of block and mortar. They combine sophisticated design and technically advanced specifications, very effective thermal design, highly engineered electrics and plumbing and extensive use of pre-manufactured elements made by KURAMO to create very compelling products. These features ensure speedy construction, a high and consistent quality and a long lasting home to enjoy for years with plumbing and electrics receiving special attention.